Wilbur Daigh Mills (1909-1992)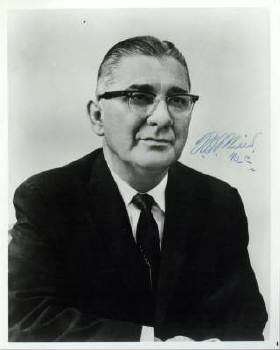 Wilbur Mills was a powerful Democratic member of the United States House of Representatives from the State of Arkansas.
Wilbur Daigh Mills was born on 24 May 1909 in Kensett, White County, Arkansas. Mills attended public schools and later graduated from Hendrix College in Conway, Arkansas. He obtained his law degree from Harvard University and was admitted to the bar in 1933.
Mills served in the House of Representatives from 1939 to 1977 and served as the chair of the powerful House Ways and Means Committee, a post he held longer than any other in American history. Mills was often termed "the most powerful man in Washington" during his tenure.
Mills served as County Judge of White County, Arkansas during the depression years and began a county-funded program to pay medical bill, prescription drugs, and hospital treatment for the poor.
His accomplishments in Congress included playing a large role in the creation of the Medicare program. Mills initially opposed the program but eventually shepherded it through Congress. Mills was also acknowledged as the primary tax expert in the Congress and a voice for the Tax Reform Act of 1969. Mills favored a conservative fiscal policy and a balanced budget but also supported various liberal programs.
January 11, 1963 cover of Time Magazine
Mills ran for President of the United States in the 1972 Democratic primaries.
But Mills is best known for being disgraced by scandal after a drunken incident on October 7, 1974. Mills was caught cheating on his wife. He chased after and won the heart of a stripper named Anabell Battistella, who was also known as "Fanne Foxe, the Argentine Firecracker." Poor Mills. In the 1970's, voters did not care for promiscuous behavior on the part of adulterous womanizing politicians. When Mills, the chairman of the House Ways and Means Committee, got drunk and drove his car into the Washington Tidal Basin while in the company of Ms. Foxe, well, it caused a real scandal. It was OK for politicians to act like cats in heat, as long as they did not get caught on camera. Indeed, one of Wilbur Mills problems was that his questioning had been caught on camera. Mills, so used to lying like a politician, panicked when he could not lie his way out of the situation. Mills's initial, glib comment on his behavior was, "Don't go out with foreigners who drink Champagne." Later, his more sober explanation was, "I drank booze, and I mixed the drinks with some highly addictive drugs." He eventually revised his explanation like a true politician: "I now believe that the fatigue and pressure built up by years of dedicated work for my constituents and for the whole nation had an impact on me far beyond what I suspected," Mills said. The Washington press corp was generally very liberal and tolerant of adultery. Reporter Nancy Dickerson never reported until after he died, that a drunken Wilbur Mills took her to see stripper Fanne Foxe perform and declared, "I own her." Liberal and tolerant, unless there was a good picture available.
Roger Mudd, who used to work at CBS News, said of it, "The best thing about this story is, it can only get worse."
Mills was questioned by Washington, D.C. Police at 2am and found to be intoxicated. His face was bloody from a scuffle with Fox. When police approached the car, Foxe leapt from the car and into the Tidal Basin. While his office denied that he had a drinking problem, Jack Anderson reported that - 'if his staff said, "He can't speak with you now, he's on the floor", it was never clear if Mills was on the floor of the House or the floor of his office.' - In the '74 election a month after the scandal, Mills had a challenger, who used the slogan, "If you like liquor, sex and thrills, cast your vote for Wilbur Mills". Mills won anyway, but with only 59% in a heavily Democrat district. Within weeks, Mills appeared on a Boston stage carousing with Foxe, apparently intoxicated. Faced with an uprising among House Democrats, Mills was forced to resign as Ways and Means chairman, and in 1976 he announced he would not seek another term, ending his 38-year House career.
Wilbur Mills died on 2 May 1992 in Searcy, Arkansas. Mills is buried at Kensett Cemetery in Kensett, Arkansas.
Various schools, highways, and other structures are named after Mills in Arkansas.
Wilbur Mills for President 1972